Every spring the Washington State Health Care Authority hosts an in-person Spring Youth Forum to celebrate the accomplishments of over 150 youth and adults throughout the state of Washington.  Each youth prevention team creates and showcases projects in substance abuse prevention, mental health, and other similar subjects.  The projects are all youth-led with guidance from adult advisors.  The forum is a chance to recognize and award those teams and adult advisors for their hard work and dedication.
Normally this is a live event but due to COVID-19 the decision was made to host it virtually. 
To be honest, the thought of this was a bit scary to me.  As the emcee and keynote speaker I had to figure out how to support this client to transform their in person event into an engaging 3 hour long virtual conference  that included an hour-long slideshow and a break (that's easy, right?).  I had no idea what to expect.  Some of my biggest concerns were, would people want to attend that long of a virtual event, and if so, how was I going to keep them engaged for the entire time so that they wouldn't log off? 
PREPARATION
Communication.  Prior to the event, I connected with the client in advance to go over their goals so I could assist in helping them to attain them. 
Practice.  In addition to preparing a script and outline, we conducted multiple practice runs to work out any kinks and make adjustments to help make the event run smoothly. 
Teamwork.  We had multiple people involved.  The client wanted to use Go2Webinar, and there was a specific event team who handled registration and the tech (ex. Helping people log on, troubleshooting audio problems, etc.)the day of the virtual conference. 
The event consisted of an opening and keynote, announcements, a virtual poster session to showcase the students' projects, reflections of some of the team members, a final recognition of teams and a closing.
SETTING THE TONE
Within the first few minutes of the virtual Spring Youth Forum, I acknowledged the uncertain times we were experiencing, and that despite this being the first ever Virtual Spring Youth Forum, it was going to be an incredible event that we would share together.  I explained that it would be less of a lecture and more of a fun and engaging conversation.  I wanted to make sure everyone felt included and given opportunities to engage, have their voices heard, and be able to ask questions and give feedback, to make the event as interactive and inclusive as possible.
As part of my welcome,  I let all attendees know about the questions feature and chat box on the platform, and to help them become familiar with these I invited everyone to type in where they were watching and listening in from.  This allowed me to recognize and give a shout out to everyone but also get people to interact and participate from the beginning.  I then asked everyone to type in if this was their first time attending the Spring Youth Forum.  Throughout the event I gave many opportunities for people to write in answers to questions so that attendees would participate and remain engaged.
I then let everyone know about the Raise Your Hand button if people had questions or any technical difficulties. 
INCENTIVIZE 
Along with providing different ways to participate I knew that had I to provide an incentive for them to want to stay engaged. After we reviewed and practiced with some of the engagement features, so that the attendees could become familiar with them, I shared that we would be giving out prizes to the most engaged people. This got people excited.  Rather than telling them what the prizes were and how many we would be giving out, I shared that I would talk more about the prizes later in the event.  The anticipation helped keep everyone engaged and participating throughout.
After the introduction came my keynote. The client wanted me to speak for one hour. With the goal of maintaining engagement, I delivered a 30 minute interactive keynote and dedicated the other 30 minutes for a live Q & A. This worked exceptionally well. 
Following the keynote, came the Virtual Poster Session to highlight, celebrate, and showcase the great work the students completed in their communities.  During part of the event the client created a slideshow of posters showcasing the different projects.
Knowing that this would be the time where we could have the most drop off, I brought up the idea of the prizes for the most engaged attendees. I shared that to increase their chances of winning, during the slideshow they could type in the chat box what they liked most about each poster. 
To increase the chances of people returning after the slideshow and break, I shared that I would announce what the prizes were when we hopped back on.
SHINE A LIGHT ON ATTENDEES
Throughout different parts of our virtual event we scheduled time where the focus was all about the attendees. Half of my keynote was a live Q & A where the teens and young adults determined what they wanted to hear. During another part of the program I asked students to speak live and share their reflections about their team, projects, and lessons they learned.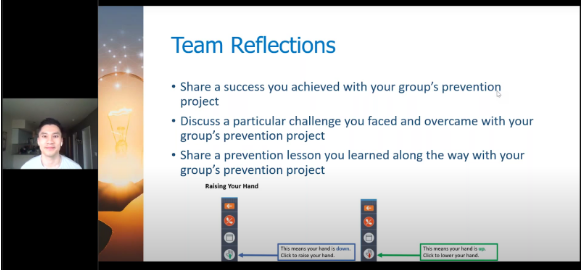 This gave attendees a chance to speak about and share their experiences and relate to others.  Being online it can feel challenging to feel connected, but by giving the spotlight to attendees, you can give them a moment to connect and be part of the event.
At the end of the program I announced that one of the ways we wanted to give recognition was to send Prevention Resource Kits to everyone involved, as a way to say thank you for all of their hard work.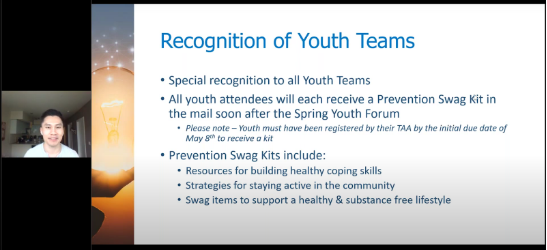 I invited everyone to let us know when they received their gifts, via social media or by reaching out to their advisors.  This was a way to continue to stay engaged with attendees after the event.
By creating an interactive, fun, and engaging virtual program, using the chat and raise your hand features, and giving plenty of opportunities for attendees to interact and connect, we were able to have a successful 3 hour event with a 90% engagement rate and positive feedback from attendees.  Some of the comments were:  "This was exactly what I needed,"  "I had so much fun," and, "Thank you for a great time!"  
Remember some of the key tips to turning your live event into a successful virtual one are: preparation, practice, utilizing your virtual tools, providing incentives, and giving attendees the spotlight!
If you need support in turning a live event of yours into a virtual event, feel free to contact us.
We would enjoy providing insight and seeing if partnering together would be a win-win. 
To schedule a short, no-obligation Success Clarifier CallTM fill out this form